Details Introduction to Tungsten Copper Alloy
WCu Alloy Main applications: For the spark erosion of dies of cemented carbide and for making high speed steel and switches and contacts in high and low voltage electrical devices.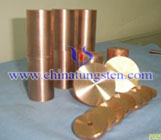 Main Sizes of the products of Chinatungsten Online:
Rods: Dia(10-60)mm x (150-250)mm
Spare bars: (12 x 12)mm (45 x 45)mm x 350mm
Applications of Copper Tungsten Composites
Resistance Welding
The high physical and mechanical properties, as well as the thermal and electrical conductivity, of refractory metal composites make WCu alloy very suitable for die inserts and electrode facings, flash and butt welding dies, and hot upsetting. They can also solve heat balance problems.
Heat Sinks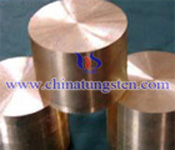 The CuW75 tungsten copper alloy is used extensively in thermal mounting plates, chip carriers, flanges, and frames for high-power electronic devices. As a copper tungsten material, it's a composite, so both the thermal advantages of copper and the very low expansion characteristics of tungsten can be utilized.
The combination of these two materials results in thermal expansion characteristics similar to those of silicone carbide, aluminum oxide, and beryllium oxide, used as chips and substrates. Because of its thermal conductivity and expansion characteristics, WCu alloy works well in densely packed circuits.
Electrical Contacts
The CuW75 materials can be also used in oil-filled devices, air and gas circuit breakers, contactors, and high voltage switch gear. Some common applications are:
arcing contacts and plates
arc runners
current carrying members
blade facings
All of our tungsten copper alloys are produced by the press, sinter, and infiltrate process. Each manufacturing step, including the basic powder, is closely controlled, monitored, and signed off on by Quality Assurance. After completion, all manufactured lots are checked for conductivity, density, and hardness prior to shipping. This information is recorded and kept on file, and also accompanies the parts or materials when requested.
EDM and ECM
WCu alloys are used worldwide for EDM (Electrical Discharge Machining) and ECM (Electrochemical Machining) electrodes. All material is manufactured by the press, sinter, and infiltrate process. Virgin powders are used, resulting in a consistent homogeneous material giving high and even burning rates. Copper tungsten is used in plunger/sinker applications where intricate definition is required, especially in tungsten carbide.
Any feedback or inquiry of Tungsten Copper Alloy Products please feel free to contact us:
Email: sales@chinatungsten.com
Tel.: +86 592 512 9696 ; +86 592 512 9595
Fax.: +86 592 512 9797