W90 Tungsten Copper Heat Sink
What is tungsten copper heat sink
The heat sink is the composition of tungsten and copper, which owns the characteristics of both materials. By adjusting the content of tungsten, the coefficient of thermal expansion (CTE) can be designed to match those of materials such as ceramics (Al2O3, BeO), semiconductors (Si), and metals (Kovar), etc.
Properties of W90Cu10 heat sink
Composition: W 90%, Cu 10%
Density: 16.75 g/cm3
Hardness: ≥260 HB
Conductivity: ≥27 IACS/%
Resistivity: ≤3.2 uΩ·cm
Flexural Strength: ≥1160 Mpa
Surface can be coated with Ni and Au
Length: 5mm-100mm
Width: 5mm-100mm
Thickness: 0.2mm-5.0mm

Applications
Tungsten copper heat sinks are widely used in applications such as optoelectronics packages, microwave packages, C packages, laser submounts, etc.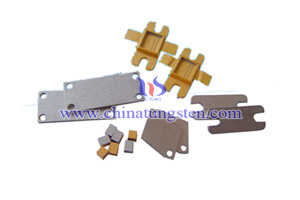 Any feedback or inquiry of Tungsten Copper Alloy Products please feel free to contact us:
Email: sales@chinatungsten.com
Tel.: +86 592 512 9696 ; +86 592 512 9595
Fax.: +86 592 512 9797