Tungsten Copper W75 Rod
Introduction
Tungsten copper W75 rod is composed of 75% W and 25% Cu, which not only has high density (14.50g/cm3), high hardness (≥HB195), high strength, but also has good conductivity (%38IACS), softening temperature is ≥900℃, thermal conductivity coefficient is between 200-230 (wm/k) and the coefficient of expansion is 9.0-9.5 (10-6k).
Characteristic
With the perfect arrangement of W and Cu, tungsten copper W75 rod provides a best way to solve the deformation in some small precision machining. And mixed with Fe properly, which tungsten copper can adsorb on magnetic workbench and it is convenient for grinding and cutting. Compared with other methods, its products have better roughness and size precision, especially in large flat electrode machining.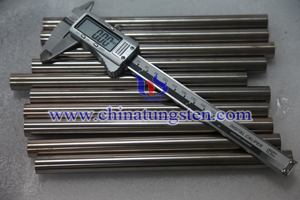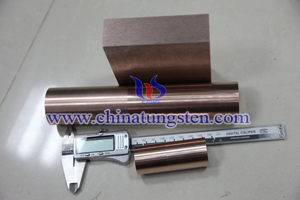 Notice
Tungsten can be easily to be molding, milling machine, lathe, grinding machine and wire EDM can be used, tungsten copper may be due to impact or excessive force and lack of processing load occurs when making sharp wave wall. In order to avoid processing lacking, we should focus on the load force of drilling. And tungsten copper is non-magnetic so that we have to make sure that the products have been firmly fixed before machining.
Specifications (mm)
D2×200

D3×200

D4×200

D5×200

D6×200

D7×200

D8×200

D9×200

D10×200

D12×200

D14×200

D15×200

D16×200

D18×200

D20×200

D21×200

D22×200

D25×200

D30×200

D35×200

D40×200

D45×200

D50×200

D60×200

The standard length of tungsten copper rod we are able to provide is less than 300(0,+5)mm, and the diameter is Ø1±0.5mm, customized sizes and tolerances are also accepted.
Any feedback or inquiry of Tungsten Copper Alloy Products please feel free to contact us:
Email: sales@chinatungsten.com
Tel.: +86 592 512 9696 ; +86 592 512 9595
Fax.: +86 592 512 9797