Tungsten Copper Heat Spreader
Our company specializing in production of WCu electronic packaging materials and pipe bar, the following is specific description of WCu electronic packaging materials: not only has low thermal expansion properties of tungsten, but also has characteristics of high thermal conductivity of copper. Particularly valuable is that its thermal expansion coefficient and thermal conductivity of the material composition can be adjusted to be designed and thus to the application of the material brought great convenience.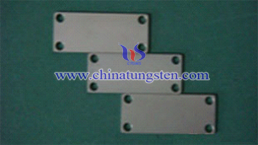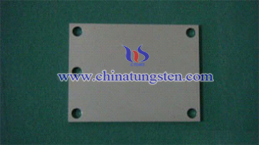 We use high quality pure raw materials, molding, high temperature sintering and infiltration, got an excellent performance of WCu electronic packaging materials and heat sink material. Applies to high-power device package of materials, such as substrate, under the electrode; high-performance lead frame; military and civilian thermal control devices such as thermal control panels and radiators.
Advantages: It has to match with different matrix thermal expansion coefficient and high thermal conductivity; excellent temperature stability and uniformity; excellent processing performance.
Specifications: WCu plate, the maximum size of 500×300 mm, thickness 0.04-50mm.
Specifications of WCu Heat Spreaders
| | | | | | |
| --- | --- | --- | --- | --- | --- |
| Content(wt%) | W-10Cu | W-15Cu | W-20Cu | W-25Cu | W-30Cu |
| Density (g/cm3) | 17.1 | 16.4 | 15.5 | 14.8 | 14.2 |
| thermal conductivity (W/m.K) | 191 | 198 | 221 | 235 | 247 |
| Thermal Expansivity(×10-6/K) | 6.3 | 7.1 | 7.6 | 8.5 | 9.0 |
Any feedback or inquiry of Tungsten Copper Alloy Products please feel free to contact us:
Email: sales@chinatungsten.com
Tel.: +86 592 512 9696 ; +86 592 512 9595
Fax.: +86 592 512 9797

More Info: Tungsten Copper Tungsten Copper Alloy